[July 2001]
What's UP?
Raising the Fawn have been taking some time to learn some new songs and practice and prepare for their special show on August 30, at the Rivoli, in Toronto (check out the 'tour' section for details). They will be playing with a few other bands, hopefully 'Barzan' who write beautifully spacious songs...
They are all very excited about having Barzan play with them, and it is likely that Kevin Drew who plays with John in Broken Social Scene, may be assembling something special for that night! Stay tuned!
New Album in the Works
Also in Raising the Fawn news, John has been demoing some songs for a new Raising the Fawn record which they will record this fall/winter with Kevin Drew producing... According to Julie Booth, all of the songs already sound amazing, and to quote Julie
Stay tuned for a new section to be added to the website to include Raising the Fawn's record picks of the month! Julie's working on the material for this right now so we should have it added and online soon!
[June 2001]
Paperback Writer:
After eight months with the band, Lesa Hannah has left Raising the Fawn. With a budding career as a fashion journalist, Lesa just didn't have the time to commit to learning new material. Or as she loved to put it, "I didn't do my homework." Oh, and just to settle any nasty rumours that could start up through this, Lesa and John are still very much a couple, so cool it you gossip types.
New Drummer for Raising the Fawn:
Our new drummer is Justin Peroff. Justin and John are already playing together in the Broken Social Scene live band and Justin's other credits include work with Do Make Say Think. The new band has begun practicing and the June 15th show at Lee's Palace with The Clientele will be his debut. Come out and wish him luck!
[May 2001]
As of May, there are a couple of announcements from John as Raising the Fawn continue to keep up their furious pace of musicalicious concerts and news!
New Shows
June 15th at Lee's Palace with Merge recording artists, The Clientele. Check RTF's other listings as well over in the 'tour' section of the site!
Read Up!
An interview with Raising the Fawn will appear in the May 10th issue of Toronto's Eye Weekly Magazine. Be sure to check it out in print or online at www.eye.net.
Compilation News with AntiAntenna
The '20 Year Design Theory' compilation is to be released in June. Check out the dirt here [click on the fawn below to link].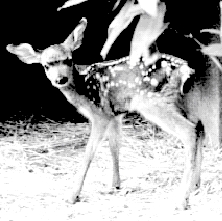 [April 2001]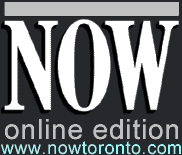 Raising the Fawn get added to the Local Spotlight in an April issue of Toronto's NOW magazine. Check out the above picture in its glory over in the 'photos' section. Way to go guys!
I know many of you have been clamouring for mp3's by the Fawn, so here we have it -- Now That You're Awake -- in the 'Listen' section over at Umbrella Music! The link for Umbrella Music will be listed here as well as being available in the .music. section for reference when it moves down in the news section in the weeks to come.
The Fawn have a brand spankin' new review for their new s/t CD via Eye Magazine's On Disc section from the March 22nd, 2001 issue. Please head over to the .music. section for more on that!
Rumour is that RTF also played a show this past Saturday on March 31st at a Church on the corner of Bond and King in Hamilton (St. Cuthbert's Church to be exact). Unfortunately, I didn't see the note for this listing in time to post it myself, but hopefully a lot of people made it out to the show -- I'm sure the band will have a lot to talk about regarding what it was like playing there! Big thanks to everyone who made it out!
Raising the Fawn's new fantastic CD was released March 27th, 2001! These CDs are available at Raising the Fawn shows and at the following record stores as well:
In Toronto : Soundscapes [572 College St.]
Rotate This [620 Queen St. W.]
In St. Catharines : Tantrum [304 St. Paul Street]
Station to Station [38 James St.]
Now go buy it! ;-}
[March 2001]
March is the month of the Fawn!
First off, we play w/Royal City and St Louis' The Potomac Accord at Ted's Wrecking Yard on March 16th.
Then, Raising the Fawn opens for Scottish superstars Mogwai at the Opera House March 25th. No that is not a typo!
We will be appearing in NOW magazine's Local Spotlight on March 15th as well.
Finally, the CD will be released on March 27th.
It is mastered and sounds fucking great, if I do say so myself! There are 10 tracks, as follows:
Spread the word! We'll be coming to Windsor soon!
[January 2001]
John has been recording a new song called "On February 2nd" for a compilation. This comp is going to be the first release for a new label out of Belleville called The antiAntenna Project.
Here's what John has to say, "I'm really excited about this song--it has lots of neat things like backward drums and noise and these weird low octave drums, and it also marks the first time Julie is singing on a recorded song. The album is still in a bit of limbo, but I hope to have it out by late March."
Look forward to more news in March!